> Asba Core Automix
> Impresil
> Blue Etch
> Blue Etch Jumbo
> Fintrec
> Interdental Wedges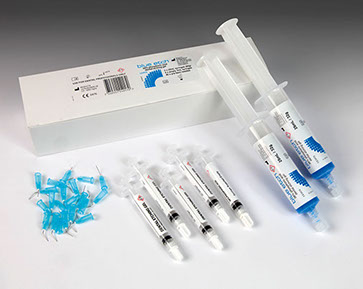 Blue Etch Jumbo
Dental Etching Gel 38% Phosphoric Acid
BLUE ETCH is a thixotropic phosphoric acid etch gel which stays in place and will not run onto exposed tissue. Syringe dispensing through pre-bent small gauge applicator tips offers precise placement of gel even in relatively inaccessible areas.
BLUE ETCH washes off easily with water.
• thixotropic
• stays where placed – will not run onto exposed tissue
• washes off easily without leaving any residue
• 15-second etch
• convenient syringe dispensing
• precise placement through small-gauge pre-bent
applicator tips
Packaging:
BLUE ETCH ECONOMY
2 x 25 ml syringes etching gel (for filling small syringes)
5 x 3ml empty syringes
50 dispenser needles
The bulk syringe should be used only
for filling empty 3ml syringes.
La Maison Dentaire SA - Alte Churerstrasse 36 - FL-9496 Balzers - LIECHTENSTEIN
www.lamaisondentairesa.com - Tel. 0041 / 91 6051267 - info@lamaisondentairesa.com