> Rocanal R2
> Rocanal R3
> Rocanal Irrigation
> Control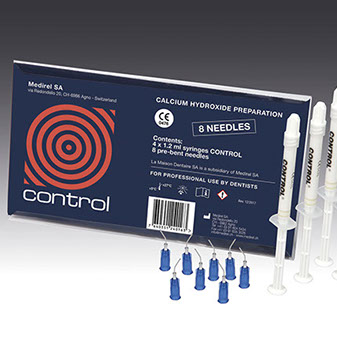 Control
Non-Setting Calcium Hydroxide Paste
pH >12 • Radiopaque • odorless
CONTROL™ is a smooth, creamy, non-setting calcium hydroxide preparation in an aqueous hydroxyethylcellulose base with barium sulfate. It is recommended for all clinical applications where calcium hydroxide paste is indicated. It is a dressing, not a hard base.
The calcium hydroxide contained in control with its strong alkaline pH creates an unfavorable environment for the growth of bacteria, at the same time stimulating the mechanism of hard tissue formation. Easy application by pre-bent dispenser needles.
Features / Indications:
• temporary and intermediate root canal therapy;
• direct pulp capping;
• dentin bridge formation;
• cavity lining and indirect pulp capping.
Packaging:
4 x 1,2 ml syringes, 8 needles
La Maison Dentaire SA - Alte Churerstrasse 36 - FL-9496 Balzers - LIECHTENSTEIN
www.lamaisondentairesa.com - Tel. 0041 / 91 6051267 - info@lamaisondentairesa.com