> Cascade
Flexible Scaler
> Asba Fluor Gel
> Dental Fresh
> Asba Prophy Paste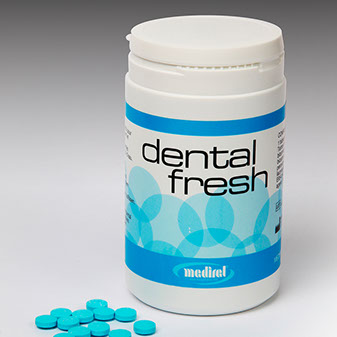 Dental Fresh
Mouthwash Tablets
Effervescent, refreshing and disinfectant tablets for the rinse of the oral cavity. The Dental Fresh tablets contain some essential oils with antiseptic and
anti-emetic properties.
Dental Fresh tablets contain:
Inorganic salts that develop a strong effervescent action with liberation of gas.
Organic tensides that act as binders, detergents and solubilizers. They possess an anti- enzymatic effect.
They are harmless, well tolerated by the mucosa and do not leave an unpleasant taste.
Refreshing essential oils.
Disinfectants and astringents help the capillary circulation and are to a certain extent anti-emetic. They stimulate the salivary secretion determining thus an action of cleansing the oral cavity.
Packaging:
Box of 900 tablets.
La Maison Dentaire SA - Alte Churerstrasse 36 - FL-9496 Balzers - LIECHTENSTEIN
www.lamaisondentairesa.com - Tel. 0041 / 91 6051267 - info@lamaisondentairesa.com